A "must-read": the fantastic report written by Andreana, from MyGloss.ch, who extensively tested our VV5 SOLUTION and shared with us her test results:
Für uns Frauen: Visoanska Paris
"VISOANSKA wirkt fast wie ein Zaubermittel… Seine tiefe feuchtigkeitsspendende Wirkung füllt die Haut mit Flüssigkeit und gibt ihr frische Kraft. Wow – kein Wunder, dass Angelina Jolie und Kate Moss sich das gleiche Hautpflege Geheimnis teilen: VISOANSKA!
Die VV5 Solution enthält zu 91% Wirkstoffe mit natürlichem Ursprung. Das mit 7 patentierten Technologien versehene Produkt wird hergestellt mit natürlichen Emulgatoren und natürlichen Düften. Mit einer silikonfreien, seidigen Textur dringt VV5 Solution tief in die Haut ein und trägt so mit über 30 Wirkstoffen zur Verbesserung des Hautbildes, zur natürlichen Hautregeneration sowie zum Schutz und zur Stärkung der natürlichen Abwehrkräfte der Haut bei. Diese intensive Behandlung ist besonders für den feuchtigkeitsarmen, erschöpften, gestressten oder den 'vernachlässigten' Hauttyp geeignet. Die Haut wirkt frischer, sie wird widerstandsfähiger und klarer und eventuelle Irritationen werden dauerhaft geheilt.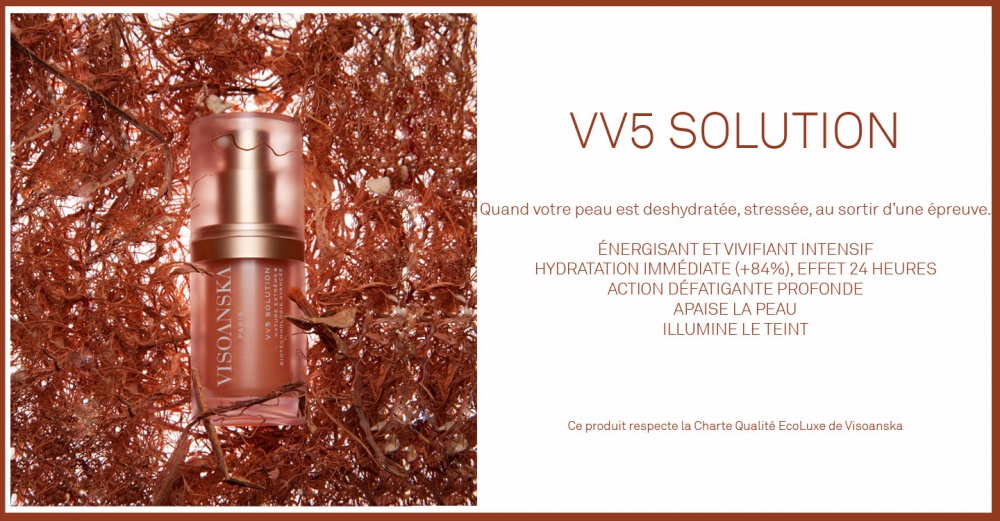 Ich ertappe mich dabei, die Solution ganz gezielt einzusetzen, denn ich habe das Gefühl, dass die Haut gleich nach dem Auftragen der VV5 Solution alle Spuren von Müdigkeit verliert… Ein zarter, angenehmer Duft unterstreicht zudem dieses Wohlgefühl! Während oder nach stressigen Zeiten erneuert die intensive VV5 Behandlung die Vitalität, die natürliche Geschmeidigkeit und die Strahlungskraft meiner Haut. Und ich genieße… bemerkenswerte Ergebnisse! Danke VISOANSKA!"
Andreana
Read the article here.