Our beloved worldwide bestseller Source Première won the 2017 Beauty Shortlist Awards in London. After we found out that our favourite product was nominated, we could barely contain our excitement. As we knew that Beauty Shortlist wouldn't nominate just any products, we knew that we were up against some of the best cosmetics on the market. Consequently, our joy and excitement was accompanied by curiosity and slight anxiousness.
However, this did not prevent us from remaining confident in the quality and unique qualities of our multifaceted cleanser. One of the secrets behind the power of this product are the shiny yellow stones twirling around at the bottom of the bottle. These stones are extracted from the Baltic Sea. Many perceive Amber to be a simple jewellery component. This unfortunately is a large misconception which has underestimated the functions of this miraculous stone.
For thousands of years, Amber has been know to assist in manifesting one's desires and heighten intellectual abilities; clarity of thought and higher wisdom. It is known to bring the energies of balance, purification, protection, psychic shielding, healing, calmness, patience, romantic love and sensuality. Thus, assuming that its only purpose is decoration is a big mistake.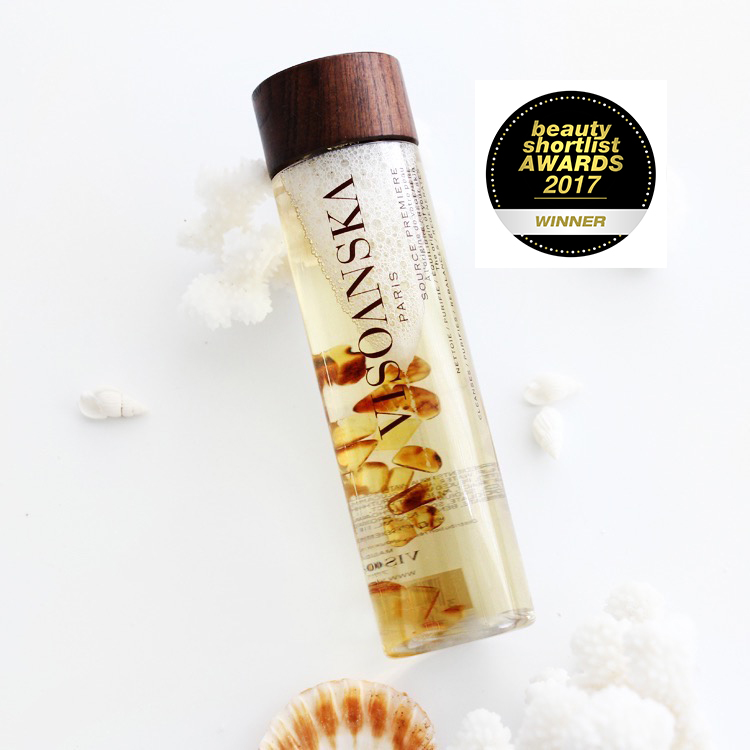 Source Première frees skin from the impurities while removing your makeup. Because our daily life is everything but a spa therapy, the prebiotics, minerals and oligo-elements restore and purify your skin in addition to restoring the energetic balance of skin cells. Consequently, diminishing redness and various imperfections.
This brief explanation should serve as a humble explanation why we were so confident in our product. At Visoanska, we value modesty, but also value recognition of the efforts we put in to make the most effective natural cosmetics on the market. With that said, winning the 2017 Beauty Shortlist Awards was a tremendous honour that we will be forever thankful for.